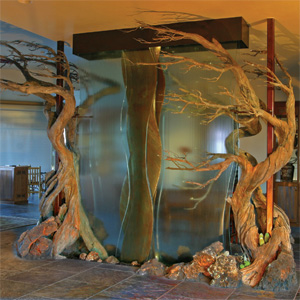 The melding of mediums…

While many of our trees are more sculptural, we can provide any species our customers desire. Our trees have been featured in restaurants, zoos, aquariums, combined with fountains or other faux rock features, and can be placed into any interior or exterior setting. We can create windswept Cyprus, Junipers or 40-foot high Ficus Strangler Fig trees. Many of our trees include fiber optic installation which create spectacular lighting and make the piece truly stand out.

If the lighting is right, a regular fountain can be turned into a visually stunning masterpiece. There's an ambience that the subtle sound of trickling water creates. We can combine sculpture, lighting and water to create a composition of relaxation and beauty.